COMMERCIAL PRESSURE WASHING

Commercial pressure washing services in Houston, TX
Blue Trust Pressure Washing adds an extra cleaning power boost that puts the sparkle and shine back into residential and commercial exteriors. Our carefully developed pressure washing techniques, high performance equipment and competent and efficient cleaning crew provide outstanding results.
COMMERCIAL POWER WASHING FOR:
Commercial and industrial complexes
Business storefronts, entryways and walkways
Signage and awnings
Gutters and downspouts
Roadways and ramps
Parking lots
Valet and Foyer areas
Government buildings
Delivery truck bays
Industrial equipment
Outdoor restaurants and commercial patios and decks
Blue Trust Pressure Washing is an commercial pressure washing company that has been proudly serving our clients in Houston Tx and all of the surrounding areas since their first call. We specialize in providing the best solutions to any of your issues. Because our customers are important to us, we strive to provide you with excellent customer care. Our top priority has always been to guarantee you complete satisfaction, and we are proud to be good at it! Call us and take advantage of all the benefits of our services!
We'll Solve Your Pressure Washing Problems at a Lower Cost and with Better Attention to Detail ... Keeping Your Buildings Beautiful And Valuable for Years to Come!

Now you can PAY LESS and get BETTER CLEANING RESULTS when you trust your commercial cleaning needs to us!

Our "soft wash" pressure washing service restores building surfaces and appearance to NEW LIFE - without the high cost of re-surfacing!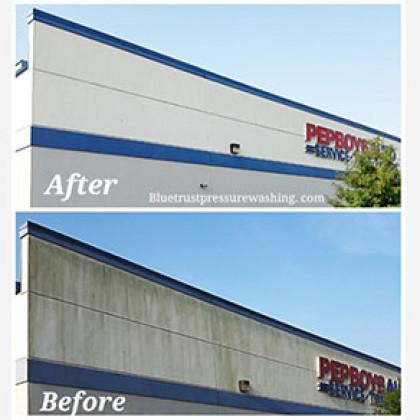 WHY EXTERIOR CLEANING?
There are NO second chances to make the Right First Impression
SAVE Thousands on expensive Painting or Re-Sealing
Increase CASH FLOW with Higher Occupancy and Satisfaction
Increasing Safety and Minimize Lawsuits like "Slip & Falls"
INCREASE the Resale Value of your Property
You're Fully Protected
Unlike other services that "claim" to be low-priced, we're FULLY INSURED with a $2 Million Dollar General Liability.
For specialty jobs and a cleaning team that can meet any challenge, contact the pressure washing experts at (713) 208-5565 for further information and a free cost estimate.